Aunt Alma Elling Hicksted wrote in her memoirs, " Then came the threshing days. They were fun for us kids, and I think the women enjoyed themselves, too. It gave them a chance to get together and bake and cook bountiful meals for their men and families.
There were about twenty families that had the threshing machine and all helped each other. There were like two groups that lived close together - some ran the threshing machine and separator and lots of the others brought their teams and wagons and did the field work and brought the shocked wheat bundles loaded on wagons to the machine.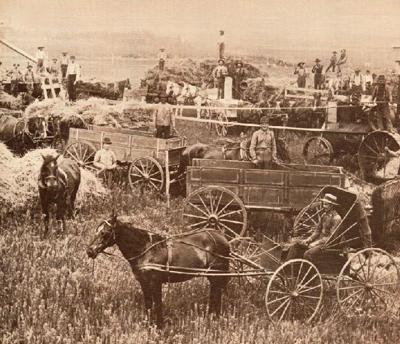 There were lots of children and the older ones had to watch the younger ones. Sometimes they were at one place for dinner and another one for supper. And what good, big meals they cooked. And the desserts - especially the pies and cakes.
About 9:30 a.m. was Frustuch or what is now called break time. Sandwiches and cold water were taken to the men as they had worked long and hard already - usually bologna, summer sausage, and cheese sandwiches. Then sometimes we had to walk from one place to the next and always several little ones in buggies. On occasion we were lucky and a farmer would be going with a team of horses and wagon and would help the mothers put the buggies and little ones on his wagon and we would ride to the next place where threshing was to be done. Even at that, those were such fun days.
The photo below came from Alma and it is marked as a threshing day photo taken at a farm not far from the Seeman farm. My father is in the buggy and he was born in September 1923.
Her identifications: "From the left is Paul Elling, Alfred Elling, From the other end is Rudy in buggy.
Next to buggy in front row is Arnold Sunderman (I was confirmed with him) and next smaller one is his brother Raymond Sunderman and next to him is Alma Elling Hicksted, a towhead and the one behind me is Laura Sunderman Grobrogge.
The others I'm not sure of. It's been too long, long ago. I know there were some Meyers, Ludemans and the elderly lady is Minnie Seeman."