The children of Moses and Chloe Camp were:
On September 11, 1813, Moses and Chloe were blessed with a fourth daughter they named Sarah. James Madison was President of the United States for a second term and the War of 1812 was raging on.
Sarah married Samuel Gorton (b. 16 Feb 1810) on November 9, 1834. The couple were married only five years before Samuel died on October 27, 1839, before the age of 30. The young widow, Sarah, was left with two small sons - Orson Samuel Gorton, born October 19, 1835, and Oscar M. Gorton, born August 31, 1837, both born in Jefferson County, NY. Orson was 4 and Oscar not yet 2 at the time of their father's death. (Dates reported in the Life and Times of Samuel Gorton, 1907)
In another area - Brookfield in Madison County, New York - Mr. Delos Worden and his wife, Polly Franklin Worden, welcomed a little daughter on July 13, 1840, and they named her Julia Ann. Sometime between that birth and July 12, 1850, Polly died, and Delos remarried to the widow, Sarah Gorton. Little Orson and Oscar now had a sister. (The information is only surmised from the obituary of Julia and information on the 1850 census for an estimation of a marriage date. I have not found primary records as yet.)
The 1850 census taken in Brookfield on July 12th found Delos Worden (spelled Wordon by the enumerator), 38, a blacksmith, and his wife, Sarah, 38, with their children: Orson S. Wordon, 14; Oscar M. Wordon, 12; Julia A. Wordon, 10; and little Ella V., 2, and Moses Wordon, 1. Oscar and Orson were mistakenly given the surname Worden by the enumerator, rather than Gorton. Delos owned real estate valued at $2,000. Because Ella was 2, I would estimate the marriage date as at least three years prior to 1850.
The couple were again enumerated in the New York census of 1855 in Brookfield, Madison County, NY, which was south of Sangerfield and Waterville in Oneida County. From this census, we learned that Delos was born in Otsego County, but lived in Madison County for 35 years. Since he was 43, that meant he moved there as a child at about the age of 8. Sarah, on the other hand, had lived in Brookfield for 14 years, or from about 1851. Did she marry at that time? The children in the family, according to this census, were Julia Ann, 15, daughter; Elbert D., 5, son (the same age as Moses...same boy?), Alida, 2; Orson Gorton, 19, working as a blacksmith and Oscar Gorton, 16, stepsons. What happened to baby Ella from the 1850 listing?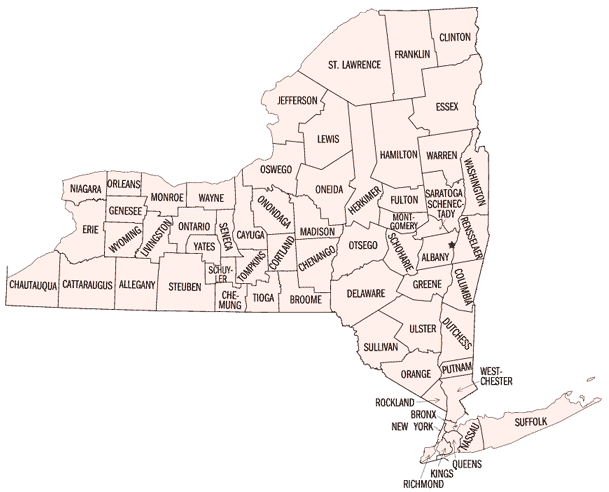 This map shows the three counties just discussed - Jefferson - where Sarah had the Gorton sons, Oneida -where she was born and raised, and Madison- where she resided with her second husband, Delos Worden.
On October 22, 1857, the very young daughter, Julia Ann Worden, married Charles Ball, and it was a marriage that lasted. They celebrated a fiftieth wedding anniversary as reported in The Courier, Brookfield, NY:
"North Brookfield. Mr. and Mrs. Charles Ball Celebrate Fiftieth Wedding Anniversary.
The fiftieth wedding anniversary of Mr. and Mrs. Charles Ball was celebrated at the home of Mr. and Mrs. C. D. Nash, Tuesday, October 22. There were present beside the host and hostess...Mr. and Mrs. S. W. Bentley of Oriskany Falls, Mr. and Mrs. Isaac Benedict of Waterville and Mr. and Mrs. S. M. Ball and it was a pleasant and enjoyable ...(unreadable)."
Charles worked as a painter at the wagon works. As The Courier reported,
"The Studebaker Wagon Works sent many wagons to the expert painters at N. Brookfield to be stripped, Joel Avery and Charles Ball were among the expert painters."
(The Courier, April 14, 1977, p 4, "Bits of History - Town of Brookfield.")
The 1860 census noted that Delos A. Worden, 48, now had real estate worth $3,000 and personal wealth worth $2,088. Still a blacksmith, he and Sarah, 48, had only Oscar Gorton, 22, a wagon maker, and Frances A. Worden, 7, living at home. The little boy/s Elbert/Moses must have died. I believe Frances was Alida as the age is correct, and it was just an interchange between first and middle names.
By 1870, only Alida Worden remained at home with her parents. She was 17 and at school, but by the time of the New York State Census in 1875, Alida was married, but still living with her parents. She married Herman C. Burhyte who was a hops buyer and shipper, probably often away from home. Though married, they were not found together in a census until 1900. Alida stayed with her parents, probably helping to care for them as they aged. So in the 1875 census, she was enumerated as Alida Burhyte, 22, married daughter.
On May 2, 1877, in the Morning Herald, Utica, New York, it was reported:
"Delos Worden, and old and much respected citizen of this village, had an attack of apoplexy Sunday morning, which resulted in paralysis of the left side. He now lies in critical condition."
Sarah Camp Worden lost her husband, Delos, on 4 May 1877. The Courier on May 9, 1877, gave this report of his funeral:
"Funeral of Delos A. Worden.
Buried in Masonic Honors.
They Pay the Last Tribute to an Esteemed Brother.
A Vast Assemblage in Attendance.
Mr. Delos A. Worden, an honored and respected citizen of North Brookfield, died on Friday last, at his residence in that village after a short illness. Mr. Worden was a member of Sanger Lodge and Warren Chapter; and those two lodges in masse, and delegates from Bridgewater, Hubbardsville, Hamilton, Eaton, and this village managed the ceremonies of the occasion.
The procession formed in front of the residence and headed by the Waterville Cornet Band, marched to the Baptist Church. The corpse was placed in front of an altar, and after introductory services, a very impressive sermon was preached by Rev. Mr. Travis of Waterville. His text was from Micah 6:8 and Revelation 5:17. The sermon was followed by customary Masonic services, after which a grand procession was formed in front of the church and immediately proceeded to the cemetery near the depot. The band played a dirge which increased the solemnity.
At the grave the Masonic rites were enacted in an imposing manner. John Jones W. M. conducted the ceremonies. A portion of the burial service was read by Hon. Bro. H. J. Cogglshall. The last token of affection was given to their deceased brother in a becoming manner and his remains returned to Mother Earth.
The assembly then returned to the village where the Masonic fraternity and the band were treated to a wholesome and refreshing lunch in Park's new building by the Waterville lodges. Thus ended the grandest, yet the saddest funeral service, ever witnessed at N. Brookfield."
North Brookfield Cemetery, Madison Co., NY. Note the Masonic symbol on the stone.
In 1880, Sarah Worden, 68, a widow, lived with her daughter, Elida (Alida), 27, her married daughter. Just a few houses away lived her son, Oscar, 42, and his wife, Hellen; Oscar worked in the wagon shop. Also living close by was her oldest son, Orson, 45, a wagon maker, and his wife, Sarah. Julia and Charles Ball were also there in Brookfield.
Sarah Camp Gorton Worden died on February 6, 1892 and it was reported in The Courier several times.
"Death has again entered our village and claimed another aged one. Mrs. Sarah Worden, after long and severe suffering, joined those she loved on the heavenly shore the evening of February 6th. For her, there is peace and blessedness unending. Her children will miss her as only a mother can be missed as they go onward in the march of life..."
and
"Mrs. Sarah Worden died at her residence at North Brookfield on the evening of February 6, 1892, at the advanced age of 80 years and five months. Mrs. Worden has been sick for a number of weeks and her death was expected. She was surrounded in her last sickness by her children who lovingly ministered to her comfort, making her departing days as bright as possible with the suffering she endured.
She was born in Sangerfield September 11, 1813, and was twice married, there being children born by each marriage, two children by the first marriage, Orson S. and Oscar M. Gorton, and three by the second of whom Mrs. Julia Ball and Mrs. Alida F. Burhyte survive. Mr. Orson S. Gorton, who spends his winters in Florida was not here at the time of her death.
Mrs. Worden was for 46 years a devoted and consistent member of the Baptist church and active so long as her health permitted. She was a kind neighbor, always to be found helping in time of sickness or distress, thereby gaining a place in the hearts and memory of the people who knew her...
The funeral services occurred Wednesday at the family residence, conducted by her pastor, Rev. F. L. Foster, who preached from the words found in Hebrew xi.4 - "Being dead, yet speaketh." A large congregation gathered to pay their last respects to the memory of the deceased."
(So, here we have Julia named as Sarah's natural born child, but a later obituary will present another piece of information that makes more sense, considering years and age. Until a birth record is found for Julia, I can not be sure.)
Sarah left a will. She wrote it when she was 68 years old, and when she died at age 80, her sons and executors filed it on April 11, 1892. It was judged to be a valid will on April 23.
"In the name of God, Amen, I, Sarah Worden, of the Town of Brookfield, County of Madison and State of New York, of the age of sixty-eight years, and being of sound (mind) and memory do make, publish, declare this to be my last will and testament, in manner following, that is to say:
First, I give and bequeath until my daughter, Mrs. Alida Burhyte as follows, to wit, viz:
My sewing machine, my melodrone*, my two best geese feather Beds, my annalysis of the Bible. Also her Board and wearing apparel that may be necessary to her comfort, also her Doctor's bills as long as she stays and lives with me, and also Three Hundred Dollars in money. The above is given in lieu of any service she may render unto me or my estate at any time, and shall be considered as full payment for any such services as said Alida has heretofore or may hereafter render unto me or my estate and shall be a bar to further claims for services.
(*Melodeon, perhaps...a small reed organ)
Second, I bequeath unto Mrs. Julia Ball as follows, to wit, viz:
My Black Walnut BedStead, Ash Beauro
(bureau)
, our Geese feather bed, my best Family Bible, my large Rocking chair upholstered in hair cloth, my Parlor center table and Three Hundred Dollars in money.
Third, I give and bequeath unto Oscar M. Gorton as follows, to wit, viz:
Three hundred and seventy dollars in money.
Fourth, I give and bequeath unto Orson S. Gorton, as follows, to wit, viz:
Three hundred and seventh dollars in money.
Fifth, I give and bequeath unto Alida Burhyte, Julia Ball, Oscar M. Gorton and Orson S. Gorton, all the rest, residue and remainder of my property...share and share alike."
She named Oscar and Orson as executors and signed the document on January 1, 1880. Remember, Delos had died in 1877, so she was intent on getting her own business in order. I have not been able to find a tombstone for Sarah, although it would seem logical she is buried in North Brookfield Cemetery in Madison County, NY where her second husband and all her children are buried.